Ottawa's First and only shop that uses 10 mil film

We are the first and only atelier in Ottawa that uses XPEL ULTIMATE PLUS 10 as a standard film. Being 25% thicker than a regular XPEL ULTIMATE PLUS; this 10 mil thick film offers an unparallel protection against the rocks, a glossier & less textured finish.

Between You And The Open Road

XPEL ULTIMATE PLUS 10 raises the bar once again with an unparalleled high gloss finish and improved impact protection for enhanced durability, making it the most advanced paint protection film on the market.

Self-Healing

When exposed to heat, the enhanced clear coat properties eliminate fine scratches and swirl marks over time.

Warranty

Built to last. XPEL ULTIMATE PLUS is backed by our comprehensive 10 year warranty, ensuring your vehicle looks its best for years to come.

Stain Resistance

Road grime, bird droppings, bug guts, and air pollution will never leave the film stained or yellow, unliked lower quality alternatives.

Mirror Smooth Finish

Optically clear, zero orange peel finish leaves the film nearly invisible

Durability

XPEL ULTIMATE PLUS 10 features superior impact protection for whatever stands between you and the open road.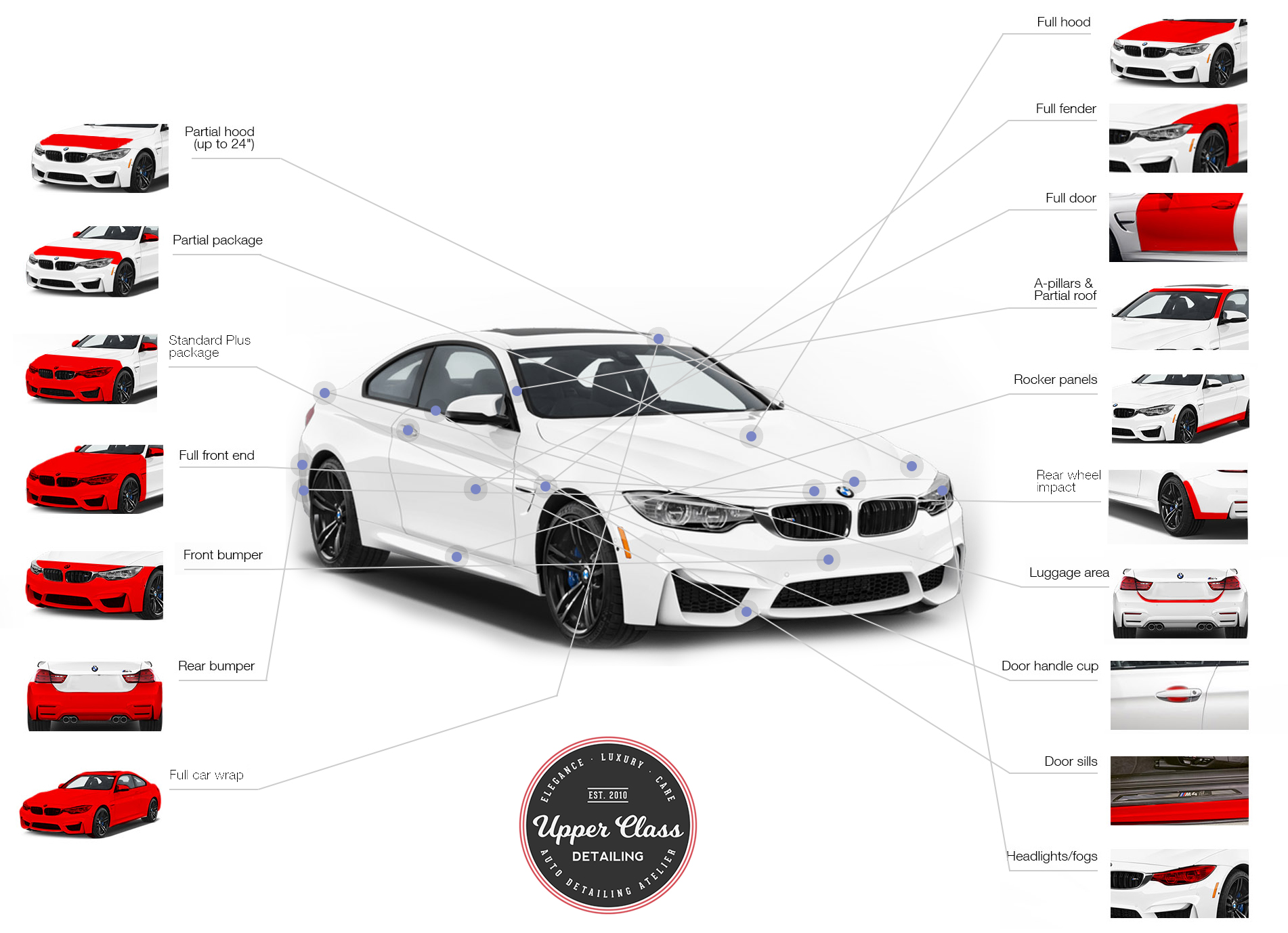 high impact Package
$1450+
full hood
front bumper
headlights/fogs
Luggage area ledge
Full Front End
$1800+
Full hood
full fenders
Mirrors
Headlights/fogs
Front bumper
Full Body Wrap
$6000+
Full body wrap
cars, coupes, cuvs, small suvs
door sills included
piano black or carbon trim included
New badges included (applies to Teslas only)
A-pillars & partial roof – $160
Door sills – $40 (each)
Mirrors – $80

Partial fenders – $100
Additional Add ons
Headlights/fogs – $150
Rocker panels – $400+
Luggage area ledge – $80
Door handle cups – $80 (all four)
Rear wheel impact – $80+
Front or rear bumper – $650+
Full hood – $650+
Full fenders or doors – $400+ (each)